The key to maintaining an attractive and healthy appeal is to practice the best possible skincare regime based on your skin type. Unfortunately more men are failing to implement the right measures to maintain a youthful and attractive look. The following guide offers a number of effective and simple tips to enhance your youth and the reasons behind practicing such routines.
Proper grooming for the male population can assist in preventing a number of skin related problems, but also helps in buffering against the effects of aging. While many seem to believe that a regime for skincare is too complicated and not necessary, but with the wrong practices on a daily basis, you could be doing more harm than good. Washing with harsh detergents and the use of an aftershave means that your skin is not receiving the protection and nourishment.
If you wish to maintain a youthful looking appearance, it is important to purchase a moisturizing lotion that contains a high SPF. The SPF or sun protection factor can include levels of 30 to 50 in order to prevent the harmful UV rays from causing permanent damage. You can prevent and reduce age spots, wrinkle formation, and risk for skin cancer with the right protective lotion or spray.
A number of products are developed for a specific type of skin including oily or dry. A moisturizer must contain essential ingredients that offer a deep form of nourishment. A product containing a lightweight consistency should be selected for oily skin while fragrance free is best for sensitive dermal layers.
The use of a vitamin C serum is needed because of the powerful benefits in its application. It is best for the production of new collagen cells and antioxidants that play a role in maintaining a youthful appeal. This will further aid in enhancing firmness and a sense of refreshment for the dermal layers.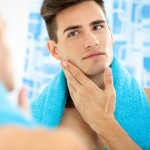 Individuals who are limited by ingrown hairs and rashes can benefit from the regular use of an exfoliating product. These ranges often include micro-beads in a gel based formula to refine large pores and to remove tough dirt and oil responsible for dysfunction. Cleaning the area regularly can soften the skin and prevent painful stubble.
The selection of a quality moisturizer is key to improve a supple skin tone. It is important to make use of serums that contain vitamin C and will assist in achieving a healthy and rejuvenated appeal. Such steps can go a long way to improve your tone without having to incorporate a complex regime.
When you are looking for information about reliable skin care for men, you can visit our web pages online here today. Details regarding why men need great skin care are available here.